Top 5 Things You May Not Know About Neosho, MO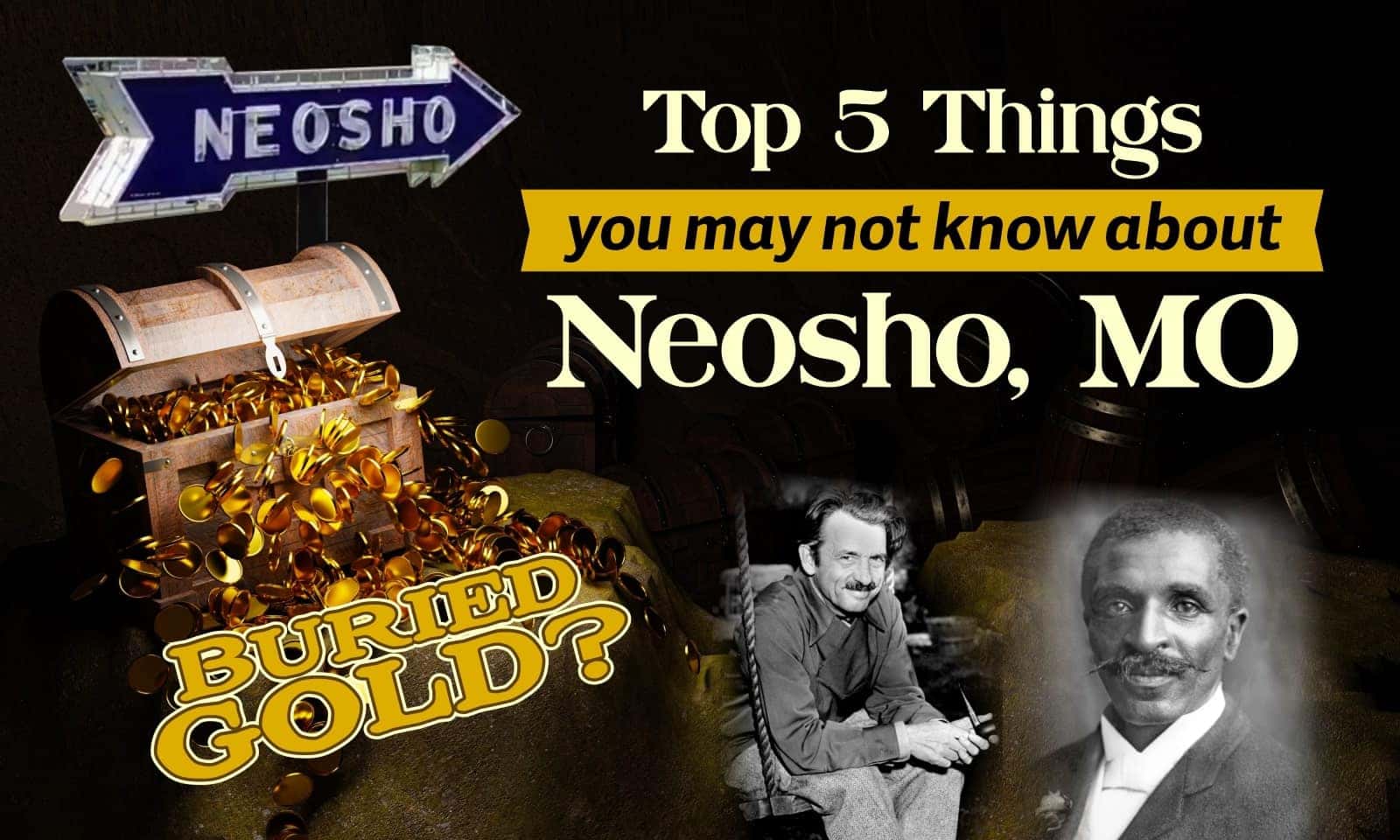 It is no secret that Neosho is a lovely neighborhood with a historic downtown. It's known as the "Cradle of Route 66" and the home of Fort Crowder where many big screen and art legends were stationed over the years. The population hovers just over 10,000 people, but it has managed to keep its small-town charm! Neosho is located near the geographic center of the contiguous United States, in a region rich in freshwater streams and lakes. Do you love fishing or just enjoying the beauty of the outdoors? Then Neosho is the place for you.
Some things you may know about Neosho, MO
It was originally founded as one of the "Flower Box Cities" in Newton County, Missouri, United States. This meant that for decades it has been known by locals simply for its abundance of flowers growing all around town!
After acquiring a railroad gondola car, it was converted into a flower box and is claimed as the world's largest flower box. It measures 66 feet long, eight feet tall, and 44 inches deep. The Neosho community came together and dedicated their time, energy, and money to make this a possibility. The flower box, which is packed with flowers, shrubs, and trees, is a lovely addition to Morse Park.
Even today, a leisurely drive around Neosho will reveal an array of Flower Boxes, both at private residences and businesses.
Neosho, also known as the Springs City, is home to approximately 12 known springs. Big Spring is the largest in Neosho and is a famous wedding location as well as one of the most photographed locations. Big Spring Park is a favorite spot for townspeople as well as tourists, with all its different types of roses and other plants that make it stand out from anywhere else. This is a place for some good old-fashioned family reunion fun! You can hike, or just enjoy the views of these natural wonders. It's no secret that Neosho is a city with big potential, so it should come as no surprise to you when I say we ranked 11th in the nation for outstanding civic effort.
Let's not forget about Bicentennial Park. It was once a part of the old World War II Camp Crowder Army Base in southern Newton County. Because of its proximity to water, railroads, and highways, the US Army chose the Neosho site for the base. Visitors can still see the foundations, fruit trees, open fields, and other relics of many of the hundreds of small farms acquired by the federal government for the 60,000-acre base.  Some famous historical figures that were stationed at Fort Crowder over the years were actor Carl Reiner and cartoonist Mort Walker of Beetle Bailey fame.
This city has other claims to fame, most notably its famous sons, renowned botanist George Washington Carver and renowned artist Thomas Hart Benton. Carver was born in Diamond and attended school in Neosho. While Thomas Hart Benton, the son of a local congressman, was born in Neosho, Missouri. Several of Benton's original lithographs are on display at Neosho City Hall. In his famous mural in the Missouri State Capitol, he depicts his Neosho childhood.
These facts may come to you as no surprise, but here are 5 things you probably didn't know about Neosho!
Do you know where the name Neosho came from?
The city of Neosho, which is now the county seat of Newton County, was first settled by Europeans in the 1820s. The first known settler was Lunsford Oliver from Tennessee, who arrived in 1829. The county was organized on December 31, 1838 and named after Sergeant John Newton, and the first court session was held in April 13, 1839. Neosho was officially incorporated in 1878. Prior to European settlement, the area was inhabited by Native Americans.
The city of Neosho is endowed with many natural springs that have made the area a major attraction to tourists over the years. The name Neosho – "Ne-o-zho" or "Ne-u-zhu," is derived from Native American, Osage roots and so the stream was called "Nuozho" in Osage. Which was a major source for drinking supplies when settlers first arrived in this region.
Do you know who the first settlers were in Neosho, MO?
Settlers of English, Scottish, German, Welsh, and Scots-Irish descent started moving into the region in the late 1820s. The area first settled in the early 19th century, when Neosho was named the county seat of Newton County. Under The Missouri Compromise, Missouri became part of the Union as a slave state.
When the Civil War broke out, it was inevitable that people would be divided in their loyalties. In fact, Neosho residents had a bitter rivalry when it came to their support of two sides during the conflict: Union or Confederate. Residents of Neosho were split in their loyalties, though they leaned pro-Southern.
A pro-Southern governor is forced to evacuate the state capitol by federal troops. After a series of decisive victories at the Battle of Carthage and the Battle of Wilson's Creek, both Union generals were relieved from duty. They voted to secede from the Union as well though no major battles were fought here like they had been elsewhere and much of downtown Neosho burned down during 1863.
Following the Civil War, Neosho developed into a major commercial center in southwest Missouri. Between 1870 and 1900, the small community's population increased from around 500 to 2,725 people. Over these decades, scores of brick commercial buildings were constructed around the central courthouse square, housing a diverse range of private businesses such as lumber yards, livery stables, hotels, and general stores. Aside from retail shops and restaurants, the city was home to a slew of manufacturing businesses, including wagon factories, mills, and even a cigar factory. In 1878, a new brick courthouse was built, followed by a county jail in 1888.
There's even a local legend that Confederate gold may be buried somewhere within Neosho.  Some locals believe it may be buried in a cave near Big Spring Park, which the city spent time excavating with no luck of finding the buried treasure to this day.
Have you visited the Neosho Federal Fish Hatchery?
Did you know Neosho is the oldest operating federal fish hatchery in the United States?
Neosho has long served as an agricultural center and, since 1888, and is the oldest in the National Fish Hatchery System. Over the years, the hatchery has raised more than 130 different species of fish. Rainbow trout have been raised at the hatchery from the beginning. The hatchery gets its water from four gravity flow springs, some of which are over four miles away, and provides 1,600 gallons per minute of 58-degree water. This water's chemical and physical properties are perfect for rearing good, fast-growing trout. An Oxygen Injection System is used to boost overall production capacity.
To date, there are many initiatives to ensure conservation in the Missouri major lakes, rivers, and streams. Since 1956, The Nature Conservancy has worked with members and conservation partners to conserve more than 150,000 acres of critical Missouri lands. It's the leading conservation organization working across the globe to conserve lands and waters on which all life depends. The Conservancy and its more than 1 million members have helped to conserve nearly 120 million acres worldwide.
The Neosho Federal Fish Hatchery is a great place for both kids and adults to have a good time. It's a fantastic learning opportunity. Visitors can view the fossil and mineral exhibits, as well as see the entire life cycle of the fish.
Did you know that the residents of Neosho are known to be some of the friendliest people you'll ever meet?
Neosho residents always have a reason to smile and express their welcoming spirit. The Neosho City Government strives to serve its residents in an efficient and business-friendly environment. Neosho is among four Missouri cities to receive the All-Missouri Certified City Award in 1978.
The city's many active civic, educational, cultural, and social organizations contribute to the civic pride that characterizes its residents. Those who have shaped Neosho's 163-year history have left the city and surrounding area with a distinct heritage of treasured traditions coupled with a progressive community spirit that distinguishes it from any other city in the nation.
Have you heard about the mysterious visual phenomenon called the Hornet Spook Light?
The Spooklight, also known as the Hornet Spooklight, is a strange visual phenomenon reportedly witnessed by witnesses in a remote area known locally as the "Devil's Promenade". This is found on the border between South-Western Missouri and North-Eastern Oklahoma, located west of the little town of Hornet, Missouri, just a small jaunt from Neosho.
Despite being named after a small, unincorporated community in Missouri from which it is most commonly accessed, the light is commonly identified as visible from inside the Oklahoma border looking west. The Spooklight is generally characterized as a single ball of light or a dense cluster of lights that appears in the region on a regular basis, typically at night. Although the description of the light is similar to that of other visual phenomena seen around the world, the word "Spooklight" when used alone commonly refers to this specific case. Several stories are attempting to explain the origins of the Spooklight, one of which includes the spirits of two young Native American lovers searching for each other.
There is a lot more to Neosho, MO
It's safe to say that this city has a lot going for it, from the delicious food and wonderful museums, but the people really make it special. Discover the elegance and beauty of Neosho, which sits on naturally occurring springs and serves as the gateway to Missouri's Ozarkian lands. We hope we have helped you learn about some interesting history and things to do in our great town. If there's something else that interests you about Neosho, let us know!