Customize Your Vehicle With High Quality Accessories From Griffith Motors
You wake up in a cold sweat. You have just experienced having the classic "Going to Work Without Your Pants On" nightmare. You jump out of bed and lay out a pair of pants in preparation for the next morning. You don't want to show up to the office undressed.
In a similar manner, your vehicle needs to have some extra accessories in order to be fully "dressed." Lift kits, floor mats, running boards, and tires all make your vehicle complete. Without them, your ride is sitting naked in the driveway, pants-less and embarrassed, looking dull. Not to mention, your vehicle operates much more efficiently with additional accessories installed. Who wouldn't desire a ride looking so fly?
Your vehicle is one of your most prized possessions. It is not only your means of transportation, but a source of pride and joy as well that expresses your personality. While the parts that it came with may be sufficient for the average person, you know that you deserve high-quality accessories to add to your vehicle. And, where better to purchase those accessories from than Griffith Motor Company?
There are various types of additions for your vehicle, and today we will discuss five of them. While this is not an exhaustive list, these accessories will be the highest quality items you can purchase from Griffith Motor Company. These five parts are possibly the most important additions to your vehicle as well, adding accessibility and efficiency to your ride.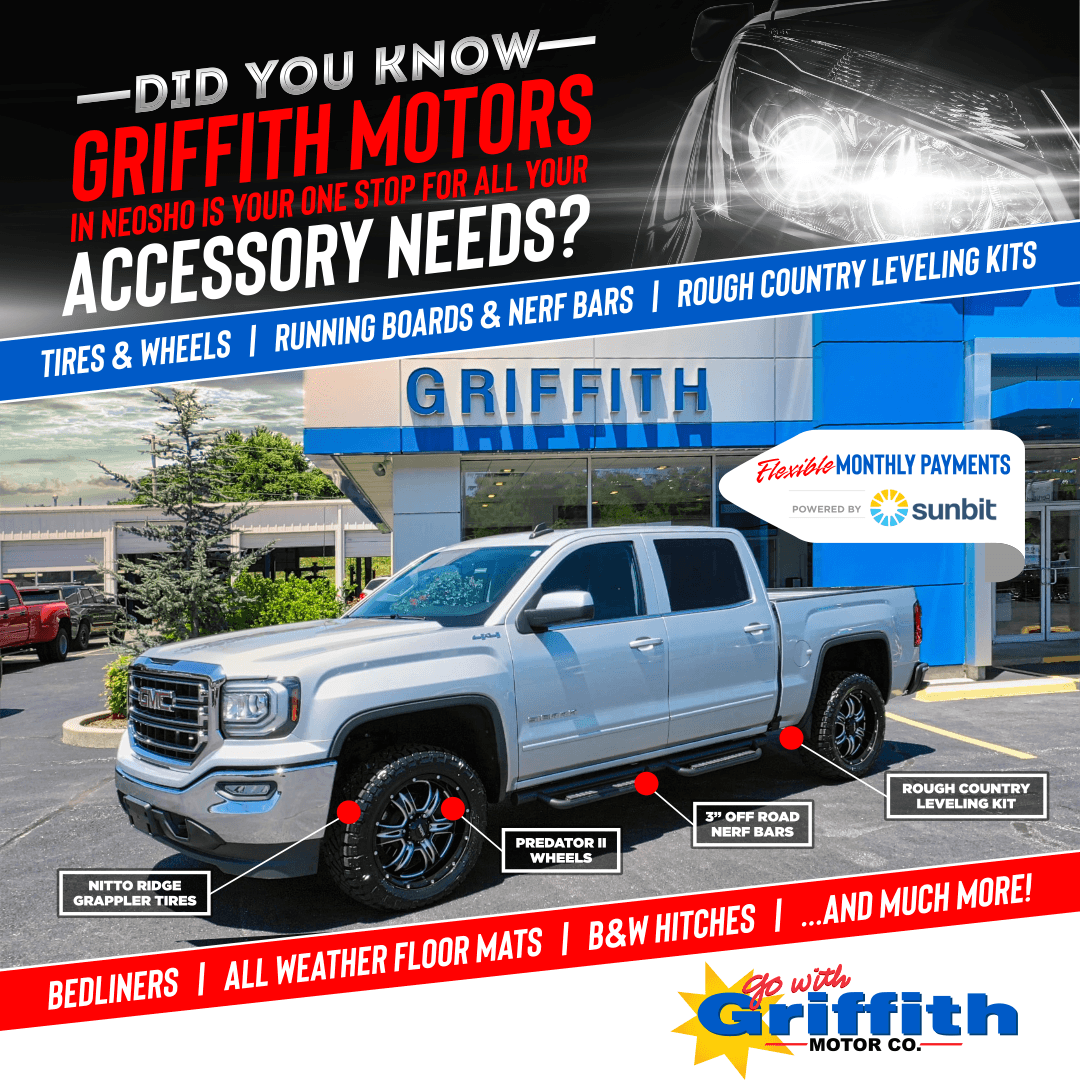 Lift Kits
Women wear high heels. Men wear boots. Almost everyone desires to be taller.
Giving you the powerful feeling of being an extra few inches above the ground (and above the other drivers around you), lift kits are the ultimate method of elevating your vehicle to a new level, both literally and figuratively. There are two main types of lift kits for your vehicle's appearance.
Body lift kits are one route you can follow, intended to raise the body of your vehicle by two or three inches (sometimes up to five inches) and have no effect on your ground clearance. Another more well-loved choice is a suspension lift kit. This type of lift actually raises your vehicle's frame as much as the installer desires, giving you increased ground clearance and a fantastic view.
Griffith Motor Company's lift kits are high quality and easier to install than the competitions' products. Visit our website today to find and purchase the right lift kit for your desired outcome.
Leveling Kits
Separate from a lift kit but with a similar purpose, a leveling kit is a type of suspension kit that can raise the front of your vehicle in order to even (or level) out its height. Oftentimes trucks are built in a manner that causes the fuel to be more efficient, in a standard "nose-down" position.
However, for the sake of having an improved vehicular stance, many drivers prefer to level out their vehicles. A leveling kit will help you to do just that.
Griffith Motor Company's leveling kits are more efficient and easier to utilize than the average leveling kit. Our website allows you to enter in your vehicle's information in order to find the right leveling kit for your needs. Visit it today to find out more!
Running Boards
While they look pretty neat, running boards are useful for more than just vehicle attire. Necessary for assisting in stepping into your vehicle, running boards will be an important addition when revamping your truck or SUV.
Have you ever been on a hike? A steep incline can make you feel like you're attempting to climb Mount Everest. Without running boards on your vehicle, you will have this same feeling. Climbing into a vehicle that is high up off of the ground can not only be difficult, but dangerous and embarrassing without the assistance of running boards. However, with running boards, your transition from the ground to your seat will be smooth.
There is a second, lesser known benefit of having running boards on your vehicle: protection from debris on the road. Spinning wheels can kick up all different types of debris, from dirt and rocks to more harmful items such as stray nails. If you have running boards, you will have an extra layer of protection to keep these objects from kicking up and scratching the paint on your doors and side panels.
Running boards come in many different styles and materials, making finding one that fits your vehicle's design quite easy. Griffith Motor Company has options for any type of running board you may desire. Simply input your vehicle's details into our website's form and search for running boards. You will not be disappointed!
Wheels and Tires
If you want to be able to operate your vehicle on the road, it needs to have tires. There are so many different styles, grades, and brands of wheels out there, so how does one decide on a set? Weighing your options can include learning about the quality and details of different tires. Factoring in the physical areas in which you will be driving, your desired look of your wheels, and the "feel" you want to have while driving will all determine which tires you will be looking to purchase.
At Griffith Motor Company, our wheels and tires are top of the line. We only carry premium quality wheels and tires, opting for choices that will please our customers and last for a long time on the road. Not only are our wheels and tires of the best quality, but they look awesome too. With multiple different options for designs and colors, as well as feels and thicknesses, Griffith Motor Company's selection is the best out there.
Weather Floor Mats
If you are going to be driving in an area that is exposed to any kind of messy weather or debris (such as snow, mud, rain, grass, sand, clay, or rock), you should consider finding a set of weather resistant floor mats for your vehicle's interior. Protecting your vehicle's interior is crucial to keeping it clean and long-lasting.
Not only do these floor mats aid in the practical matter of protecting your vehicle's floor, but they also are much easier to clean than the carpet that is often installed on the floor of vehicles. The material that weather floor mats are created from is stain- and scent-resistant, and extends the lifetime of your vehicle's interior overall, preventing necessary replacements from occurring until much later on in your vehicle's lifetime.
In Conclusion
Your vehicle needs to be dressed. Griffith Motors Company carries the best "clothing" for your vehicle, and the most specific assistance on which to buy. Without our assistance, you might choose a piece that is not compatible with your vehicle type, or that simply looks inappropriate for your style.
When you are in need of an accessory for your vehicle, whether for the sake of aesthetics or practicality, Griffith Motors Company has what you need in stock. Visit our website today to figure out an accessory that works for you and add it to your cart. Contact us with any questions or concerns; we are here to help you find accessories that move you. Happy driving!
Call 417.451.2626 to discuss accessories for your ride!