5 Springtime Activities to Enjoy in Neosho, MO
As the weather warms up, it's impossible not to feel excited about getting out and about to enjoy the best that Neosho has to offer. With spring in the air and bringing with it colorful blooms, community-minded events and near-perfect weather, it's the ideal time to explore.
It is no secret that we love Neosho all year round, but it's impossible to deny that the arrival of spring puts a little extra pep in our step. Given the city's abundance of green space and many accessible walking, hiking and biking trails, it really is a great time to be a visitor or a local of Neosho.
From quirky community events including the sprawling City Wide Garage Sale to learning more about conservation in America's oldest Federal Hatchery, the options are many and varied. Plus, they are all guaranteed to bring a smile to your face – whether you're one or 101.
The Best Things to Do in Neosho in Spring
To help inspire you to make the most of spring, we have put together our list of the five absolute best springtime activities to enjoy in Neosho.
City Wide Garage Sale
If your idea of a garage sale is a few dusty old items out on makeshift tables, then you'd better adjust your expectations! Every April, Neosho becomes a sprawling open-air market as local residents spring clean and get on board for Missouri's largest, and hands down best, garage sale.
This year, more than 400 sales are expected. With such a huge number of stops, you can expect everything you need and want (plus plenty else) to be out for sale. You know what they say – one person's trash is another person's treasure!
To help with planning your route and finding what you're after, the official Neosho City Wide Garage Sale website has an interactive map. This will show you where all the sales are, as well as provide a brief overview of what's on offer. From car parts to baby clothes to antique homewares and everything in between, there really is incredible variety.
Not only is this a great opportunity to pick up some fabulous new things, but you can also bask in the community spirit. The City Wide Garage Sale is one of the biggest events on Neosho's annual calendar, and the city buzzes with bargain hunters from all over the nation.
Friday is even declared a pupil free day at the local schools, so you can expect it to be a real family affair with families joining together to sell their goods. The atmosphere is festive, and it's a great excuse to see more of Neosho by supporting local restaurants, shops and cafes too.
The sale is held officially on April 9th and 10th for 2021, however it's not unusual for a few sales to open up a bit early. So, if you're a real bargain hunter you might want to arrive at the crack of dawn for the best finds.
Just finished spring cleaning after watching Marie Kondo on Netflix? Locals can also register to hold their own garage sale up until 10pm on 8 April, so be quick if you're looking to participate as a seller.
Dogwoods at Big Spring Park
If you've been lucky enough to spend much time in Neosho or Missouri, you've probably come face-to-face with the state's official tree – the Flowering Dogwood. This beautiful tree is native to the eastern United States, and brightens Neosho's streets with its picture-perfect pink and white flowers.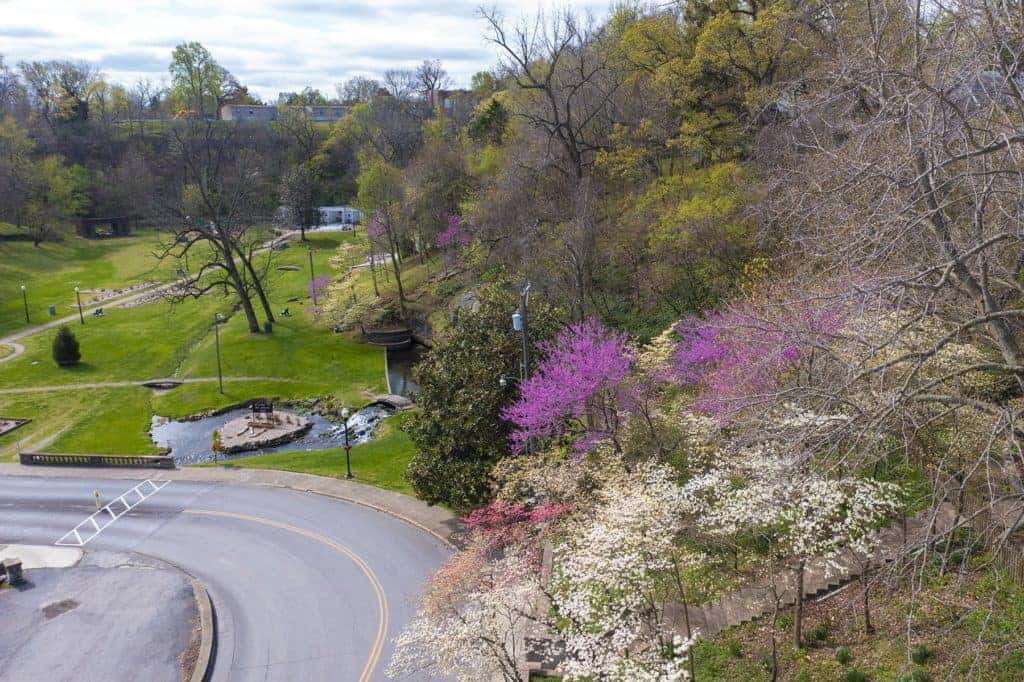 While they're charming all year round, their flowers are particularly abundant in the early weeks of spring.
The abundance of Dogwoods in Neosho is no happy accident. It's largely thanks to the efforts of a group of friends in the 1940s who began a small passion project that has brought happiness to the locals and visitors of Neosho for decades.
Specifically, it was 1946 when local Neosho resident Hazel Warden started "the Campfire Girls", a group of ladies who sold the beautiful Dogwood trees as a fundraiser for community projects.
With the coveted prize of being crowned "the Dogwood Queen" on offer for the young lady who sold the most trees, Dogwoods were soon selling like hotcakes. As a result, dozens of the beautiful trees were planted around the city, many by the Campfire Girls themselves.
Not only did the project raise funds for community projects, but they literally sowed the seeds for an attraction that would be enjoyed by generations.
Today, Neosho's beautiful Dogwood trees are a popular icon of the city. A walking trail has been devised which will take in some of the most picturesque locations. However, as a local in-the-know, take it from us – Big Spring Park is a particularly magical location.
As well as plenty of fine examples of these pastel trees, if you look closely you can even spot the names of some of the original Campfire Girls etched on engraved bricks.
While you're there, be sure to also admire the beautiful spring and the park itself. This is definitely a Neosho springtime activity to bring your camera for!
Hit the Morse Park Trail
On the northeastern limits of Neosho you'll find Morse Park, a gorgeous green belt that's popular with locals and visitors. It's the perfect place to spend a morning or afternoon at any time, but in springtime the blissful temperatures, bright sunshine and lush greenery combine to make it extra special.
In the park is a scenic walking trail of approximately 1.7 miles, meaning it is ideal for visitors of all ages, including families. A significant portion of the trail is paved to be more accessible for people with mobility needs.
There are lots of ways to enjoy Morse Park Trail but we're particularly big fans of seeing it on foot or by bike. It is ideal for hiking thanks to the well-maintained trail and the fairly flat terrain, although there are a few challenges to keep you interested.
For your efforts, you'll be rewarded by beautiful views of towering trees and even the occasional glimpse of local animals including fish. Winding alongside Hickory Creek, it's a serene and relaxing place to breathe in the fresh air.
While a relaxing hike is always appealing, equally enticing is jumping on your bike to explore the Morse Park Trail on two wheels. The trail is popular with cyclists including mountain bikers of all abilities.
This spring is proving to be particularly exciting thanks to a recent addition of a further 1,600 feet of trails. As a result of this, there are now not one but two loops to enjoy – you can let us know which is your favorite!
Enjoy a Picnic at Fort Crowder Conservation Area
Looking for even more wide-open space in Neosho? You're in luck – the city is adjacent to the sprawling Fort Crowder Conservation Area, a beautiful park with a fascinating past, making it ideal for picnics.
Fort Crowder sprung to fame during World War II, when it was chosen as an army base due to its convenient location and amenities. Numerous farms and their land were quickly snapped up in order to create an expansive base.
With the launch of the comic strip "Beetle Bailey", comic fans around the world were introduced to Fort Crowder under its fictional moniker "Camp Swampy".
Eventually the military permanently moved out, the base was decommissioned, and the area was later partly declared a conservation area. To this day, the many layers of its history are still on show, with remnants of old farms, the barracks and ponds visible.
Mostly, however, the area is au naturale with more than 60% of its 2,500+ acres covered in dense forest. You'll find a staggering variety of plants, including abundant oaks and walnut trees, which create a perfect habitat for wildlife including birds and deer.
All of this combines to make Fort Crowder Conservation Area the ideal spot for enjoying a picnic. Simply bring a packed lunch, cozy picnic blanket and enjoy the beautiful surrounds and relaxing tunes of nature.
Plus, there's no better time to enjoy it than in spring, when the foliage is abundant, the birds are at their chattiest and the weather is delightful. It's no wonder this is one of our absolute favorite springtime activities in Neosho.
Fish Watching at the Neosho Fish Hatchery
There might be other Federal hatcheries around the country, but none are as old (and some would say as loved) as the Neosho Fish Hatchery. Since 1888, the hatchery has been contributing to the area's biodiversity and delighting onlookers – and we're certainly not tiring of it.
Located at the southern end of Morse Park the Hatchery remains in full operation. You can't miss it – just look for the unique "onion shaped" building at the bottom end of the park.
After the fish are bred and raised in the Hatchery, they are released back into American waterways to ensure the survival of various rare and endangered species. Over the years, it has contributed to saving various species of local fish including the Ozark Cavefish and pallid sturgeon.
Knowing that the hatchery is playing its part in preserving the diversity of the US' lakes and rivers makes it even more fun to visit and enjoy some "fish watching". An environmentally friendly, multimillion dollar expansion means the unique visitor's center is a real delight for nature and architecture buffs.
As well as watching the hatchlings, there are many opportunities to learn more via the interactive exhibits. Another fan favorite is grabbing some free food to feed the fish (and ducks!) in the ponds on the well-manicured grounds.
There are also trails, BBQ facilities and picnic tables to enjoy during your visit.